E SEL PET – Vitamin E & Selenium Supplement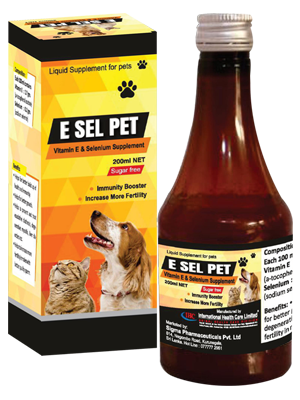 Benefits:
Helps for better buildup of health and immunity.
Helps for better growth.
Helps to prevent and treat exudative diathesis, degenerative myositis, liver disorders etc.
Helps to increase more fertility in males with better quality sperm.
Dosage:
Dogs & Cats: 2-5 ml/ day orally (or) as advised by a Veterinarian depending upon animal health condition.
Composition:
Each 100 ml. contains
Vitamin E (A-tocopherol acetate): 1.7 g
Selenium (sodium selenite): 0.2 g
Excipients: Q.S.