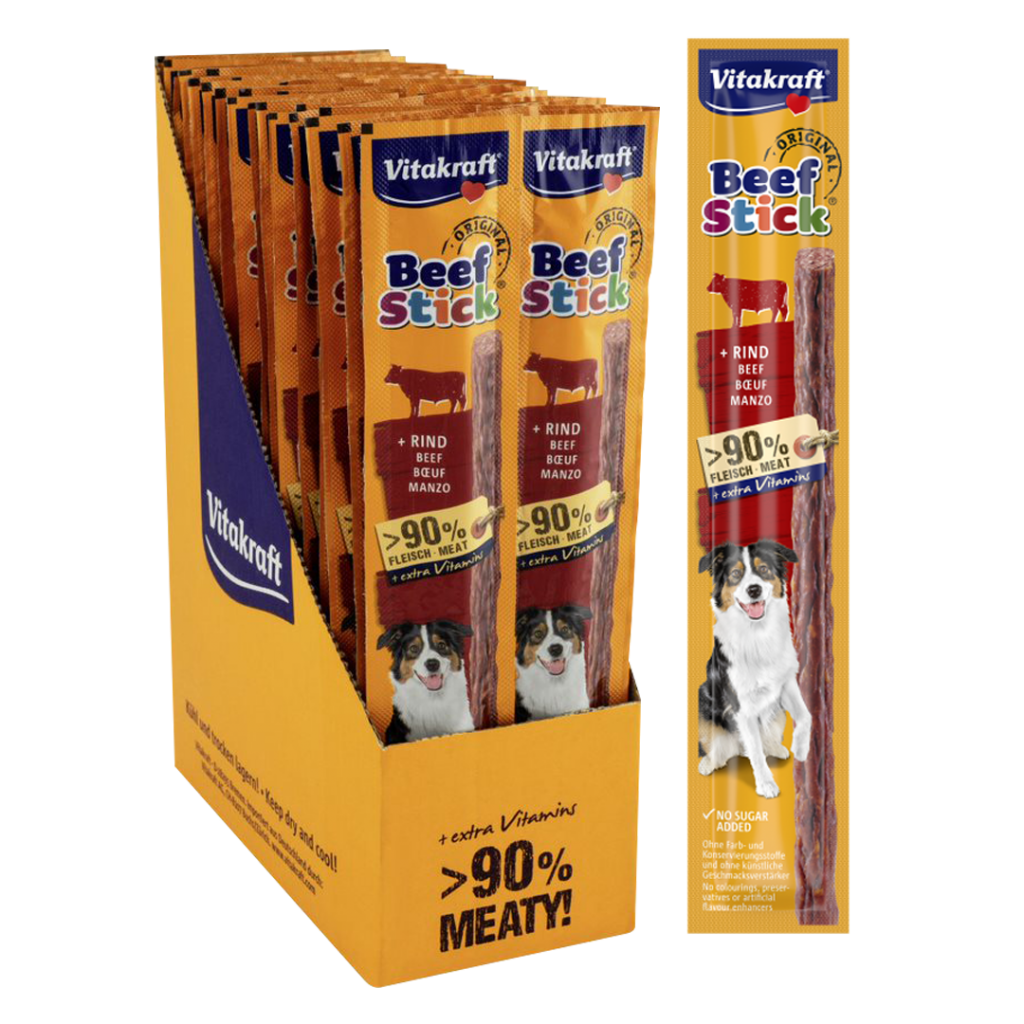 A Vitakraft Beef Stick® makes every dog's heart beat faster! The original among the meat sticks convinces big and small four-legged friends alike – with its unique, hearty taste , the absolutely delicious smell and an extra high meat content . Perfect for pampering, rewarding or simply for a little hunger in between! Particularly practical: The Beef Stick® Original is also ideal for on the go thanks to the freshly sealed tear-open pack.
With beef
Extra high meat content of > 90%
With vitamins
Easy to portion thanks to score lines
No added sugar
Without the addition of coloring and preservatives
Without the addition of artificial flavor enhancers
In a freshly sealed tear-off pack
Manufactured in a sustainable manufacturing facility using green electricity and our own wastewater treatment plant
Composition:
Meat and animal by-products 94.8% (of which 90.9% muscle meat, beef 54.5%, pork, poultry), minerals, vegetable by-products (potato starch), cereals (rice)
Ingredients:
30.00% protein
25.00% fat content
3.00% crude fiber
7.50% crude ash
33.00% moisture
Additives/kg:
Nutritional physiological additives:
5,000.00 IU 3a672a Vitamin A
500.00 IU 3a671 Vitamin D3
AT 4012
Feeding recommendation:
As a hearty reward in between.
We recommend for dogs with an ideal weight of …
2-5kg: 0.5-1 stick/day
5-15kg: 1-2 sticks/day
15-25kg: 2-3 sticks/day
25-35kg: 3-4 sticks/day
35-50kg: 4-5 sticks/day
These are guidelines that may vary depending on age, activity level and breed. Take the amount fed into account in the daily ration and always provide sufficient drinking water.