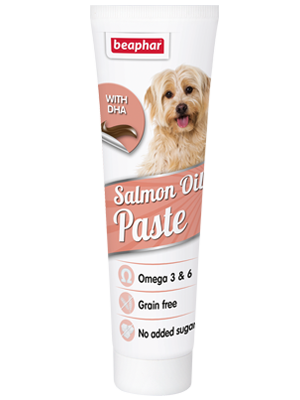 Salmon Oil Paste for Dogs
Beaphar Salmon Oil Paste – Pamper your kitty with a special reward treat for a beautiful and glossy coating, pure Atlantic salmon oil (20 percent) makes the paste highly nutritious with high Omega acids. The high DHA ratio helps retain vision.
INGREDIENTS:
Protein 16%, Fiber 0.03%, Oils and Fats 54%, Ash 4.4%, Moisture 2.1%
Key Benefits:
The delicious salmon oil paste for dogs is rich in Omega 3 and 6 to enhance public health.
Calcium and Vitamin D3.
To support the health of teeth and bones.
Makes the paste extremely rich in Rich in nutritional benefits. It also contains high proportions of Omega acids for a beautiful and shiny coat.
Grain-free.
Rich in Omega acids.