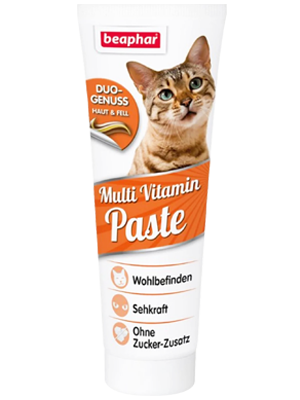 Multi-Vitamin Paste for Cats
Beaphar Multi-Vitamin Paste for cats is a paste with 2 functions in 1 tube The combination of multi-vitamin and conditioning paste helps to promote a shiny and healthy coat. The yellow, multi-vitamin paste contains the vitamins and minerals that your cat needs, as well as taurine. Recommended for cats or kittens over 3 months. The brown conditioning paste contains Bio-MOS that actively stimulates the healthy intestinal flora of your cat.
INGREDIENTS:
Vit B1 395mg, vit B2 115mg, calcium pantothenate 125mg, nicotinamide 995mg, vit B6 115mg, vit B12 780ug, folic acid 22mg, biotin 2400mg, vit E 160iu, taurine 4425mg, MOS 4650mg, malt extract 3.7%.
Key Benefits:
A delicious, dual-action multi-vitamin and conditioning paste.
With an effective multi-vitamin formula containing key vitamins and minerals to support optimum health.
With taurine to support eye and heart function.
Easy feed paste to promote optimum condition.