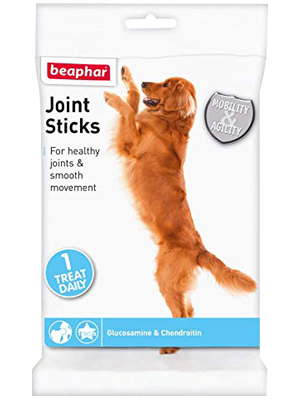 Joint Sticks
Beaphar Joint Sticks are a delicious, meaty flavored treat that has been formulated to assist the development and maintenance of tendons, joints and connective tissue Beaphar Joint Sticks contain high levels of glucosamine, which has been shown to assist the production of cartilage and in turn rebuild joint tissue allowing for smoother movement of joints and ligaments. Green-lipped muscle powder is a rich, natural source of chondroitin, which will help to maintain healthy cartilage and is often used in human tissue health care due to its anti-inflammatory effects on joints.
INGREDIENTS:
Crude protein 25%, Crude Fat 2%, Crude ash 14%, Crude fiber 0%, Moisture 3.7%, Ca 0.77%, P 0.28%, Na 0.26%, Mg 4.3%, K 0.8%
Key Benefits:
Made with premium quality, natural ingredients.
Delicious and functional treat sticks with active ingredients for maximum results.
Highly palatable for ease of feeding.
With a tasty meaty flavor.
Specially formulated to promote healthy joints and smooth movement in all dogs.
Aids mobility and agility.
Assists in the production and maintenance of cartilage.
Helps your dog stay agile with pain-free movement.