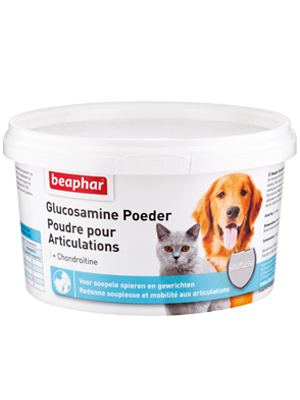 Glucosamine Powder
To maintain the elasticity and natural functions of the musculoskeletal system, the body places high demands on the composition of the diet. Especially with dogs and cats who have difficulty getting up, walking with difficulty, lying down a lot, or with growing young animals, it is useful to supplement the diet with Beaphar Glucosamine Powder. Glucosamine Powder contains high-quality ingredients such as glucosamine (12%) and chondroitin (6.2%), manganese, and magnesium, which support the joints and therefore the mobility of the animal. It also contains various minerals and vitamins (C and E), which will help the vitality of the animal.
INGREDIENTS:
Crude protein 25%, Crude Fat 2%, Crude ash 14%, Crude fiber 0%, Moisture 3.7%, Ca 0.77%, P 0.28%, Na 0.26%, Mg 4.3%, K 0.8%
Key Benefits:
Very suitable for dosing with fresh meat and canned food.
High concentration of glucosamine and chondroitin.
Suitable for dogs and cats.