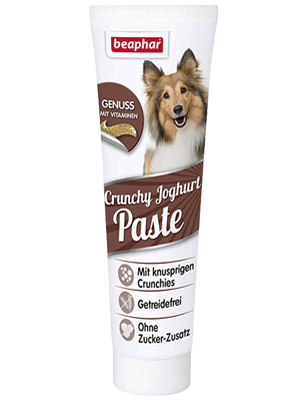 Crunchy Yogurt Paste for Dogs
A special treat for daily treats is the Beaphar Crunchy Yoghurt Paste for Dogs The delicious yoghurt cream is covered with crunchy crisps that render the taste irresistible. Teeth and bones are made healthier by calcium and vitamin D3. The dog's coat will be perfect and shiny due to Biotin and Vitamin A.
A frequent reward during training. The wonderful yoghurt cream enshrouds Crispy Crunches. Irresistible flavor!
INGREDIENTS:
Oils and fats, milk and dairy products. (yogurt milk powder 4.4%), seeds, vegetable by-products, (mallow extract 0.13 %), minerals, yeasts, algae, meat, and animal by-products. Oils and fats 57%, Crude protein 10%, Crude ash 3.3%, Moisture 2.8%, Crude fiber 2.5%, Calcium 0.37%, Phosphorus 0.31%, Natrium 0.27%, Magnesium 0.07%
Key Benefits:
Grain-free.
Calcium and vitamin D3 ensure teeth and bone care.
Biotin and Vitamin A help make the coat beautiful and shiny.