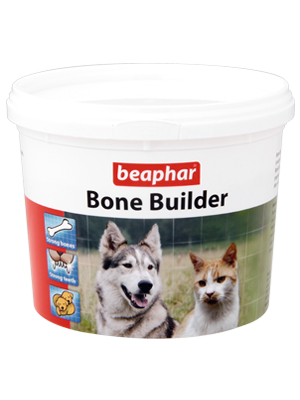 Bone Builder
Beaphar Bone Builder is a highly palatable, easy-to-use, powdered nutritional supplement to provide the essential building blocks for strong, healthy bones and teeth, and contains a balanced ratio of calcium and phosphorous.
Beaphar Bone Builder is specially formulated for cats and dogs that are fed home-prepared meat, soya, or fish-based diets to help you provide them with the correct balance of vitamins and minerals.
ALWAYS FULLY READ THE PRODUCT LABEL BEFORE USE.
Using the table below, give your pet the recommended number of scoops per day.
Cats: 1 scoop
Puppies: 1 scoop
Small dogs: 1 scoop
Medium dogs: 2 scoops
Large dogs: 3 scoops
Lactating females: 3 scoops
Sprinkle the required number of scoops of Beaphar Bone Builder onto your pet's normal food and mix in.
Beaphar Bone Builder is to be given once daily.