ADD CAL PET – Calcium, Phosphorus & Vitamin D3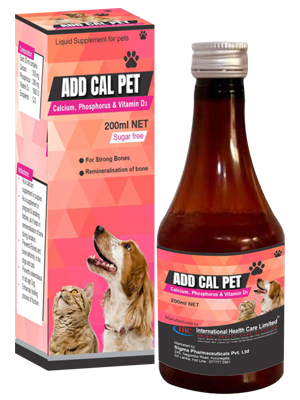 Composition:
Each 20 ml contains
Ca : 350 mg
P : 280 mg
Vit D3 : 1600 IU
Excipients : Q.S
Indiactions:
As a calcium supplement in puppies.
As a supplement in pregnant & lactating bitches, as it helps in remineralisation of bone during lactation.
Prevents Rickets and bone deformity in the dogs and cats.
Prevents osteomalacia in old age bitches and dogs.
Enhances healing process of fracture.
Dosage: orally
Puppies: 5 ml twice a day.
Adult dog :10 ml twice a day.
(or) as directed by a veterinarian.
Pour directly into the mouth or mash in the food.